Meditation has become hugely popular across the world. As more people search for a better lifestyle and mindfulness, sitting in a calm space all by yourself has helped people mentally and physically.
In this blog, we'll be charting how Meditation Coaches can take advantage of their skills and keep the money mills spinning, even while they sleep.
Meditation And Mindfulness
From reducing stress, improving concentration, lowering blood pressure, and even aiding to boost the immune system… These are just a few of the benefits that are associated with meditation.
Whether before the sun rises or after the day's work, nothing beats the comfort of nestling in a silent space, sitting down, closing your eyes, and being all in existence with yourself to seek inner peace.
"Brilliant things happen in calm minds." – ~ Headspace
Meditation transformed the lives of many people, and so many worldwide who want to be mindful are approaching professional meditation coaches to help them in their lives and careers.
Adding on, the rise of technology and modern ways has facilitated faster growth in more people seeking meditation for their betterment and finding a sense of balance.
How To Make Money Online Selling Meditation Videos?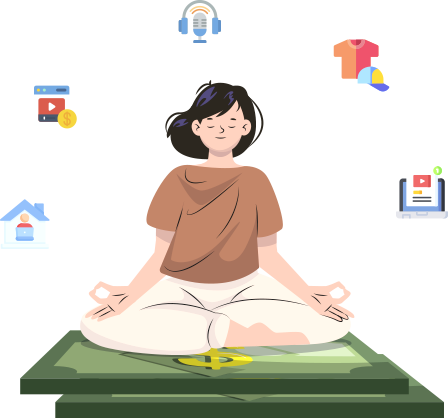 Start an Online Studio
Create your own channel
Sell Merchandise
Monetize your YouTube Channel
Digital Downloads
In-Video Ads
Blogging
Sell Others' Products
Podcasts
Host Local Offline Workshops
Meditation Coaches can now teach more people sitting in their homes. And can even earn money while they sleep by creating content online. The most important thing is creating high-quality content that offers value to your audience and betters their life. Below are 10 ways you can do so:
1. Start an Online Studio
Eliminate the need for physical space rent and other inventories by starting an online meditation studio. Allow your students to practice meditation at their own pace and convenience. You can record, edit, and upload videos in a single repository, and customers can pay to access the content. This way, you can get recurring revenue and train people from around the world.
2. Create your own channel
How cool is it to have your own subscription channel where you can easily upload content, set your suitable pricing strategy, market your courses, and make money out of it – Sounds like a plan? You can reach an infinite number of people, build your brand, and earn more… All of this with a little step. 100s of creators worldwide created their channel and started earning with GUDSHO – Create a channel for FREE now!
3. Sell Merchandise
If you have a considerable audience who love what you offer, you can launch your own merchandise set. It can be anything from meditation mats, t-shirts, hoodies, coffee mugs, and more. Audiences love associating with creators, giving them a sense of belonging. Websites like Shopify, Amazon, etc., can help sell your products online and deliver them to the buyer's doorsteps.
4. Monetize your YouTube Channel
Are you a meditation coach with a YouTube Channel? You can monetize your YouTube channel, and YouTube pays you depending on the views your videos garner online over time. But again, placing complete bets on YouTube channels will make you one amongst the crowd. While this platform can serve as a passive income source, also consider YouTube alternative channels where you can get the best from your fitness offerings.
5. Digital Downloads
For fitness enthusiasts who love to read in-depth or want to know how to meditate well, you can publish eBooks or create PDFs that are available as digital downloads on your website or elsewhere. This way, those interested can buy your content from any available online sources. However, writing a book takes a lot of time. Make sure the eBook is thoroughly researched and of high quality.
6. In-Video Ads
You can place pop-up or slide-down ads of other businesses in the course of your videos. Collaborate with brands who are willing to vouch for you. This process becomes easier if you have a large followers count or some reliable data to show how many access your content. Additionally, in-video ads can be tricky as customers are already paying for your content and would not again want to see distracting ads during their sessions.
7. Blogging
Imagine your thoughts condensed as an article on the first page of Google. Writing articles and sharing information remains a reliable source of making money while in autopilot mode. Write blogs around your niche (i.e.) meditation, and open more possibilities for passive income sources. While setting up a blog does take little time, the after-effects are highly positive.
8. Sell Others' Products
Collaborate with businesses and sell their products through your videos. For example, you can tie up with a clothing company and shoot your videos wearing their apparel. Say, a t-shirt and shorts. Brands are already willing to pay for influences and creators who can help sell their products. You need to find them. Team up with the right businesses. Because for example, advertising jeans pants during meditation videos might not be a good idea.
9. Podcasts
Create and upload podcasts on popular platforms like Spotify, Apple Podcasts, and more. Taking a cue from the above ways to make money, you can seek brand sponsorships and give their businesses a couple of shoutouts in exchange for a commission fee. You get to share your expertise with the world, and the brand videos get more visibility from your audience. It's a win-win for both.
10. Host Local Offline Workshops
Once in a while, ask your audience to disconnect from the virtual screens and host a live session where you all can meet and meditate as a group in some common space. This helps your customers to meet the creator and also aids students to know each other. Isn't it always a pleasure to meet new people?
The growing awareness around mediation made it more acceptable to people from all walks of life. And we hope these 10 ways will help Meditation Coaches to develop existing skills into a successful online biz.
Do note that all of the ways mentioned above… Some may take time to set up and need constant updation of content in accordance with customer preferences. But once all is set, you can start earning even while you sleep.
Conclusion
Regardless of location, you can make meditation courses accessible to fitness enthusiasts worldwide. And this, in turn, makes it memorable for the audience to learn from their favorite instructors. The probability of this happening at in-person classes is nil. And that's the beauty of online classes.
For Meditation Coaches, there has never been a better phrase to earn money online. The options are limitless to sell your meditation content online and are within the vicinity of tech-focused fitness instructors.
While many mainstream streaming platforms take a chunk-sized amount of your earnings, it is always advisable to create your own channel where you can upload your content and set your own pricing strategy, depending on the quality of the content.
More people — in coming times — will only be inclined towards meditation to find balance and inner peace. When the tide arrives, make sure your surfboard is steady. Ready to monetize meditation videos and create recurring revenue? A few minutes is all it takes to create your channel. Let's do it now.
FAQ
1. Can meditation videos be monetized?
Yes, there are multiple ways to sell meditation videos online. Doing this generates a regular income stream for coaches in the online fitness program space. Plus, it also increases the scope of their business.
2. How to make money with meditation videos?
First things first, produce high-quality content with a great audio-visual experience. And then create a channel for yourself on a video monetization platform that strengthens the efforts of content creators to build their brand. GUDSHO offers creators to see their desirable revenue models.
3. How long does it take to monetize mediation videos?
It does not take time at all if you host your videos on GUDSHO. We don't wait for a number of views to pay you. We don't cut large amounts from your hard work. After videos are uploaded, you get paid every time a purchase is made.
4. How much do meditation YouTube channels make?
Money on YouTube channels is subjective and cannot be defined as a one-for-all plan. With in-video ads, influencer marketing, YouTube display ads, and more – there are multiple ways to monetize videos on YouTube. However, the competition is stiff over there, and it is advisable for meditation content creators to also consider a video monetization platform to amplify their work.
5. Where can I upload my meditation videos online?
All social media platforms like Instagram, Facebook, YouTube, TikTok, and more. But if you plan on monetizing your mediation videos, you need to change the game plan and put in more work to deliver quality content to your audience. Talking about monetization platforms, have you checked out GUDSHO yet?