Just like how technology evolved and put us at crossroads on which best software to choose, the age of the internet dawned power in the hands of content creators.
Whether you are a social media influencer or a video streamer or any independent creator who desires to raise a fan base through your videos online, a video monetization platform is always there to help.
You may think that there's YouTube, through which you can monetize your video content. But do not get me wrong, as there are wise, convenient, and efficient options in the market that let you take complete ownership of your content and help you make the money that you deserve.
So, in the 1000 feet article below, let us derive an actionable monetization strategy and the models that would best explain how you can monetize your videos.
We will start with,
What is Video Monetization?
Video Monetization is a simple process of using strategies to generate income from the videos that you use on any platform.
In simpler terms, it is getting paid for the videos you create and post online.
For achieving successful monetization on your videos, you need strategies or specific models that help you raise your revenue bar. So, in the section next, we will briefly yet in detail look at the 'how-to' strategies a content creator could have an eye on.
Looking to create your branded Video Monetization Channel?
What is a Branded Channel /Video?
"A brand is not just any name or logo that helps people distinguish yours in the crowded market. But, it is the way your users perceive your content whenever they hear of you."
To all those of you out there who have missed the nitty gritty details of monetization methods, all ears here!
A branded channel, unlike any other normal medium, is a way by which creators can include exclusive content in channels so that your users must pay a certain amount to view. It is considered to be the best means to monetize videos.
For clear understanding, an example of the above-said is the option, 'Join' on YouTube Alternative, which allows users to join the creators' community for accessing their exclusive pieces of content.
So, how do you make your channel a branded and recognized one? Well, that's not going to happen overnight.
Ways To Create a Branded Channel
Now that we have learned the ABCs of what a brand is, it is time to develop a clear grasp on the playing field- tips to brand your identity.
Building a name for you essentially boils down to the following steps:
Learn your target audience and research your competition
Identify your niche content topic
Very carefully choose a video CMS that is algorithm-free and allows you to take control of your content
Select an appealing business name by including an adjective
Choose a slogan that creates a 'wow' sign
Opt for the best look and feel of both the UI and the UX
Design your logo that's attractive and explains your vision
Stay consistent as consistency is the key.
Finally, enable profitable monetization models
Different Video Monetization Strategies

"Monetization is no longer the stuff or revenue that you make but the reward for your stories that ought to inspire others."
Therefore, a monetization strategy is not a one-size solution for generating revenue-oriented content. Stead, is a plan that involves different actions to bring in accolades from a platform, audience, or content type.
So, here are the top monetization methods that every creator uses today.
1. Paid Subscriptions:
You can use this method that allows viewers to watch videos by paying a certain price that is set by you on the video monetization platform.
By doing so, your viewers can get access to an unlimited library of videos you post, all on-demand, or live.
Usually, subscriptions are billed on a monthly, weekly, bi-weekly, quarterly, and annual basis. This works as an ideal method for generating recurring revenue on a timely basis.
2. Sponsored Ads:
This is yet another 'how to quickly earn money' monetization method that works great for content creators. And, it is similar to the concept of watching ads on YouTube. Here, you can either work with ad sponsors to incorporate their ads into your videos or work with an ad agency for seamless insertion.
Whichever way you choose, make sure to include ads only that are relevant to your viewers and your videos. For every ad your user views, a certain amount of penny will be added to your account.
3. Pay Per Content:
As goes with the name, your viewers pay a certain price for a particular content that is visible only for a limited period.
This method is generally adopted while hosting a seminar, when conducting a virtual game competition, or while selling access to documentaries.
It's easy and widely accepted by creators like you.
4. First Free Then Premium:
"Videos allow us to tell great stories of any aspect in a very strong way and great marketing happens only with extraordinary stories."
Adding to it, this method works when you have a strong fan base and your content is well-liked by viewers. So that they are ready to upgrade their plans for more of your content.
Initially, you can offer a free plan, grab hold of your fans, let them watch videos online that are highly in demand, and when you have established a strong portfolio, give them a chance to upgrade for their views.
And finally, the count comes down to 'Using Branded Channels'.
Luckily, the idea behind it is no rocket science and is easy to do in the highly demanding video world.
Monetize Brand Videos without YouTube
The tables have turned now; the days when YouTube is the only platform for monetizing video content are long gone. Online Video platforms have evolved much more than just viewing video. Platforms like GUDSHO offer multiple features like unlimited Video Hosting, 4k Live Streaming, and 5+ Monetization options that serve businesses and content creators grow with their online video business.
How to Successfully Monetize Your Fan Community
Identify and resonate with your fans- fans come first, and understanding the fans and the current consumption of your fans is highly important before deciding to monetize your content
Target your audience with the right content: Good content is spoiled when it is shared without a target audience.
Begin your video journey to make a profitable video business.
Communicate and work on feedback: Feedbacks is a great way of understanding your fans, conducting a review and gathering feedback and working on that will be a great way to communicate with your fans.
Create content based on the feedback: Prepare a plan and make a list of the content from the feedback received. Create a content plan and execute it.
How To Create An Exemplary Video Monetization Model?
We can see that the on-demand and live-streaming markets are on the full rise these days. And once you upload a video, many go with the saying, 'post and pray', but we enlighten you on using different payment models to keep consistent revenue flowing.

There are different monetization options to choose from, and all are based on video-on-demand (VOD). Let us start with,
1. SVOD: Subscription Video-On-Demand
VOD, also meaning video-on-demand, is a type where users can access videos anywhere and at any time at the push of a single button.
And an SVOD gives users access to video content for a monthly or annual fee. It works best if you have a strong and loyal fanbase. This model is similar to the Netflix subscription that we pay every month to watch videos. SVOD is similar to that.
Plus, if your videos are liked by users they are going to keep revisiting and paying for your service. Thereby, compounding your income on every new follower.
2. TVOD: Transactional Video-on-Demand
In this, people pay only for the videos they wish to watch. This model works great if you have content that covers various genres.
TVOD also helps creators in generating revenue by selling access to a particular content type in addition to the usual subscription they pose. A tiny-miny fact for you is that creators these days are making money by letting users play games.
So, it all depends on what concept you ring in the market!
3. AVOD: Advertising Video-on-Demand
AVOD is a classic method used by YouTube that allows advertisers to pay you to put their ads in front of your audience. It is best if you have a large fan following as the more viewers, the greater the potential to earn money.
4. Donations
This monetization mode allows fans who love your work and wish to support you through small contributions or donations.
Upon reception of such small fundings on your work, your passion towards what you are doing increases thereby backing a big whole community behind.
5. Geo-specific Monetization:
A very simple monetization model that goes well with the name, applying filters on specific locations for content access.
You can set location-based targeting and focus on which countries you need your fan to follow and simultaneously take into account their interest and preferences for your video creations.
6. Hybrid Location:
Meaning, you are a creator who has mastered varied genres and gives an exclusive video base for users to select and watch their favorites.
Guess, that was a lot to take in so we will quickly go ahead with the best CMS platform to catalog videos, stream, and generate revenues from them.
Best Video Monetization Platforms In the Market
So far we learned how to monetize your video content and the point where everything subsides is on using a CMS platform. Without any ado, let us look at the best video-on-demand platforms.
GUDSHO is a versatile, flawless, and the best premium video monetization platform built for the new-gen content creators.
In it, you can create your own channels, stream videos that are worth attention, promote, increase fan following, and finally monetize content seamlessly.
What distinguishes them from the rest is their monetization models that are the best pick of the season, crafted for the users by skilled techies.
Use GUDSHO to enjoy an undisturbed and fully-controlling income flow to your accounts.
These makes GUDSHO a standout:
Supports 4k streaming without any lags
This pool allows users to take 100% revenue without needing to share with anyone
And, these are the goods of GUDSHO
Easy to set channels
Can effortlessly publish videos using drag-and-drop widgets
Facilitates bulk upload
Backed by global content delivery networks
Guess, this is enough about us, let us see other VOD platforms. But in case you still need to be glued to our topic, here's help!
2. Patreon
When you want to experience the best marketing campaigns, Patreon stands as a new way for 250k creators to engage with their fans. Did you know that this platform is widely supported by 8 million patrons? Unimaginable isn't it!
Patreons drive a mission to help creators to take complete control over their work, establish connections with their fans, and finally build successful businesses.
Additionally, creators can easily upload and share videos via the integrated ecosystem making viewing and interacting easy.
These makes Patreon a standout:
Premium web and mobile video experiences for fans
Helps to monetize video content outside of ad-driven ecosystem
And, these are the goods of Patreon
Audience Insights
Custom Previews
Ability to cast videos to other devices by Airplay and Chromecast
The next one up on the list is Muvi.
3. Muvi
If you wish to deploy multiple monetization models to your platform, Muvi is your go-to solution. This SaaS-based and OTT-focused online video platform supports both live streaming and monetization tools.
Plus, their paywall implementation works well with all advertising and PPV subscription models making this a highlight.
What's to be noted is that though there are specifics of them, Muvi's security features and geographic restrictions are a drawback.
These makes Muvi a standout:
Subscription, Pay-Per-View (PPV), and Ads Monetization models
Crowdfunding and donations
DevHours package lets users to coordinate with customizations
And, these are the goods of Muvi
Use your own domain
Chromecast and metadata management
Multiple payment gateways
Built-in CDN and option to record live streams
Let's hover to the next top video monetization platform, Kickstarter.
4. Kickstarter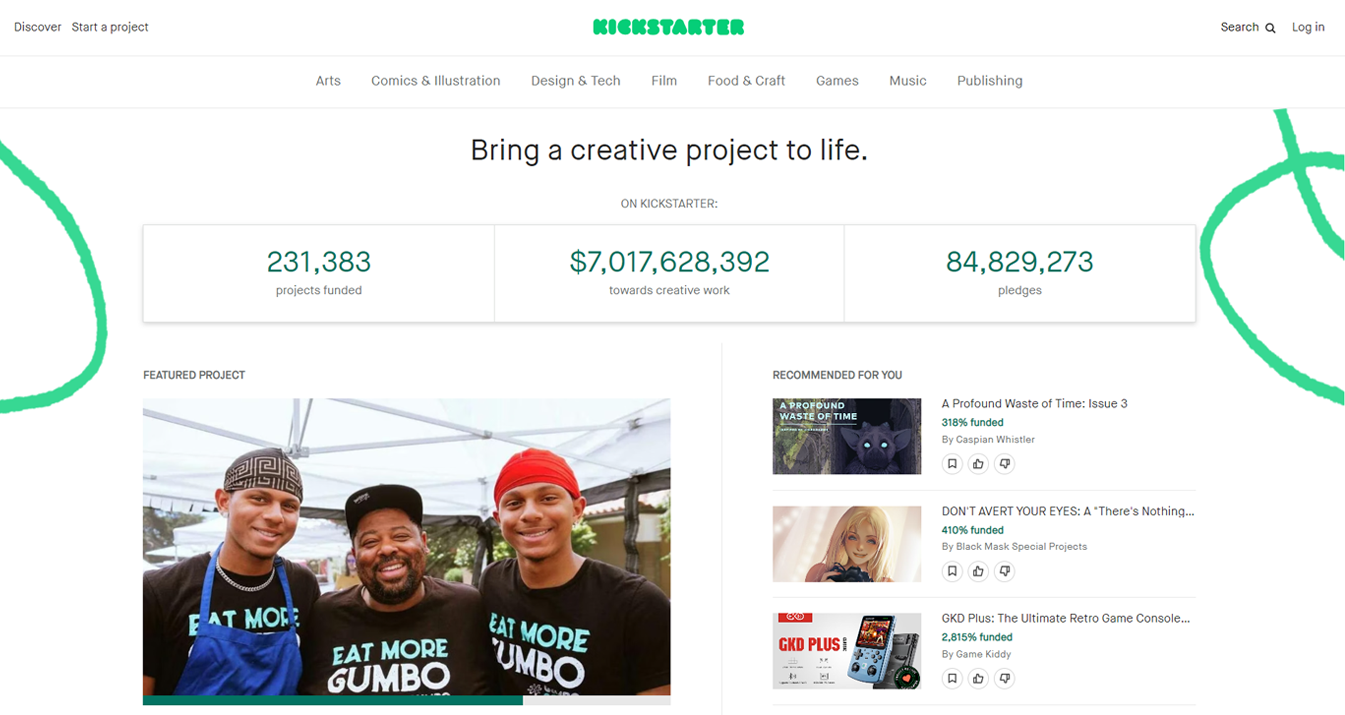 Kickstarter is a one-stop destination for tips, news, and a home to online video series. It allows users to get updates on what's happening around the world in their portal.
With these, they are a crowdfunding platform focusing on the work of content creators. There's one thing that differs from the rest, it is their project diversification that allows creators to monetize videos by playing games, creating arts, or posing films.
Finally, if you wish to discover new projects, launch on your own, and earn money, this CMS has to be in your pocket. Oh yes, you can add this portal to your wishlist just like 200k+ backers!
These makes Kickstarter a standout:
Creators can raise funds through gaming, arts, and comics projects too
And, these are the goods of Kickstarter
Easy to create channels
Email and mobile notifications
Options to back community with content
Announcements and invitations to provide feedback
So far we saw a full roundup of their features and highlights, time to see what's next in the hood.
5. Twitch
Twitch, an American video live streaming platform creates a nudge amongst the creators community with services into video game live streaming, sports competition, music broadcasts, and other creative content. It is the sole platform that receives 8 million unique streamers every month. Thus, making it the widely acceptable CMS in town.
Initially started with a single 24/7 livestream, the channel is now populated with 140 million of users hosting a surplus of channels for varied domains.
It is noted for beating YouTube in terms of space for live content. Amazing isn't it?
These makes Twitch a standout:
Numerous extensions that Twitch splits into
Unlike the rest CMS platform, they allow to create animations
Different monetization packages
And, these are the goods of Twitch
Viewership engagements
Twitch extensions
Alerts and saved channels
Rewards for most viewed content
Finally, that's the end of the VOD platform list. And time has come to wrap this journey.
Key Takeaways
Firstly, thanks for traversing with us so far in learning the best CMS platforms out there. By now, you would have learned that video monetization is a catalyst for uninterrupted growth and sustainability.
So, if you are a content creator yearning to make the utmost revenue out of videos, make sure to opt for monetization platforms like GUDSHO that lets you claim the complete share, supports your growth, & help you receive the best accolades.
We suggest you not be a genie ready to accept what you get but an iron man to use your wits and pick what's best for you! Till then, happy reading!
Losing your brand identity to monetize? GUDSHO allows you to monetize your content under your brand name.
FAQ
1. How to create my own video channel to monetize?
Creating a video channel is as simple as ever. You need to first figure out the best monetization platform, sign up with them, and check out their pricing plans that best suit your content delivery, and there you go, you would have created a channel.
2. Is there any platform to create my channel to monetize my videos?
Yes, there are plenty of video monetization platforms like GUDSHO, Patreon, Twitch, Muvi, and others to skyrocket your revenue. But, if you are looking for handpicked features, robust security, and enterprise-grade infrastructure, GUDSHO can be the wisest choice for you.
3. Are there any alternatives to YouTube?
Though YouTube is one of the most renowned streaming platforms available today, it is not the only one to grasp the attention of content creators as there are plenty of alternatives to it. Examples are GUDSHO, Twitch, and Patreon.
4. What kind of content can I monetize?
There is no particular restriction on which content can be monetized as the leverage has been given to creators to monetize content related to art, music, online gaming, comics, theatrical releases, science, and many others.
5. What is the fastest way to monetize a branded channel?
There is no denying that video content has become more popular than anything else. So, content creators are constantly striving to note the best method to monetize. Some of the quickest ways to monetize are using ad sponsorship, affiliate marketing, channel membership, PPV, paid sponsorships, and quite a few. We suggest you go through the above blog post for more details on this.
6. Do I need to pay a part of my revenue to GUDSHO?
Well, you need not! You may keep your hard-earned money to yourself as we understand the effort and stress behind every content generation and publishing. All you are required to do is subscribe to any of our pricing plans to create a channel of your own and that's it.