In today's digital world, every day, people wake up to their favorite influencer's or content creators' content from different digital platforms like GUDSHO, YouTube, Instagram, and Facebook, but what pushes the fan to switch from one content creator to another is the quality of the content presented to them.
Presentation is the key to any form of video content. The prime role of any video content is visual because visual storytelling eases and simplifies communicating with the audience and makes the job even easier for the content creator.
And here, we will look at how content creators can amplify their visual work with the best camera setup.
Camera, Lenses, and Resolution:
As a content creator, you start with visualizing your content in your creative right hemisphere brain part. The most indigestible part of the process is not getting the output you envisioned. Of course, the most common reason is the camera you use to tell your story.
Cameras are the greatest ally to any content creator, but if you are stuck between how to choose the right camera for your content creation and how the top content creators play with their cameras, read further.
👉 Mistakes:
If you are using a handy cam or cam recorder to shoot your content, then it's time to sell it. But, before buying a camera, keep these in mind.
Types of Cameras
Cameras are available in wide ranges and comes in different shapes and types according to the quality and the visual capability; the kind of cameras that are available in the market are listed below:
Point-and-shoot cameras
Bridge cameras
Mirrorless cameras
DSLR cameras
Full-frame mirrorless cameras
4/3 micro cameras
Point and shoot cameras:
In earlier days, when we went on vacations, trips, and outings, these pocket-sized cameras were the ideal choice that one would carry to shoot. Point-and-shoot cameras have optical zoom, and a display panel—the recent releases of point-and-shoot cameras from Sony and Panasonic offer a 4K video output.
📸 GO pro:
The super-powerful GO pro is an excellent Point and shoot camera. They are also called action cameras due to their stability, strong build usage across various terrains, and performance in action sequences.
📸 Best GoPro:
GoPro Hero 11: These are lightweight, robust cameras; they can shoot a 5K video up to 60fps and 120 fps in 4K resolution. They have a battery life of two to three hours.
Content creators can use GoPro's in outdoor and underwater shots since they are waterproof.
Best Point and shoot cameras:
📸 Panasonic Lumix DMC-LX10📸 Sony Cyber-shot RX100 VI
Bridge cameras
Bridge cameras are a photographer's best friend, and if you are producing photography-related content, you can use bridge cameras to shoot sample footage and photos.
Bridge cameras have a fixed lens and a small sensor, so they underperform in low-light conditions.
Best bridge cameras:
📸 Nikon Coolpix B600📸 Sony RX10 IV
Mirrorless cameras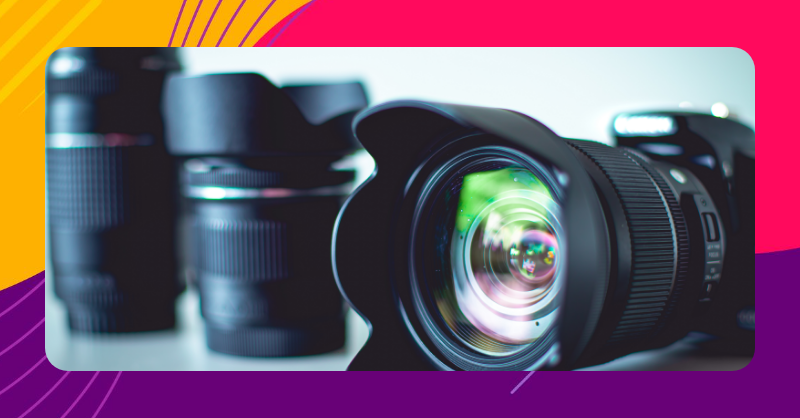 Mirrorless cameras arrive with interchangeable lenses, which help you to shoot different dimensions of space. They come with an electronic viewfinder(EVF), In-body image stabilization (IBIS), an autofocus system, and a high-performing shutter. It offers an excellent video output even in low light conditions.
Best mirrorless cameras:
📸 Fujifilm-X-H2📸 Nikon Z-9
DSLR cameras:
Digital single-lens reflex cameras are DSLRs with large autofocusing sensors, optical viewfinders, and interchangeable lenses. DSLRs are the go-to cameras for content creators to produce high-quality output.
Best DSLR cameras:
📸 Canon EOS 90D DSLR Camera📸 Canon EOS 6D Mark II DSLR Camera
Full-frame mirrorless cameras
Full-frame mirrorless cameras are single-lens reflex cameras that produce sharp images in low-light conditions. They are widely used in shooting short films and gives out good-quality content. In addition, they carry an advantage of a lightweight body and faster shutter speeds.
Best cameras:
📸 Sony A7 IV Camera📸 Fujifilm X-T4 Camera
4/3 micro cameras
Micro cameras are, by design, compact and light in weight; since the distance between lens and sensor is small, they avoid flares and suppress ghosts, and shoots in an aspect ratio of 4:3. They have interchangeable lens options and a 4k video recording feature.
Best cameras:
📸 OM System OM-1📸 Panasonic Lumix GH6
Light your content:
Lighting is one key factor that most content creators need to improve at. The most common and proper way of lighting is the 3-point lighting.
Three lights are used in three-point lighting,💡 Key light- Ring light💡 Backlight- Soft LED light💡 Fill light- Soft LED light
And these lights are placed at certain degrees around the subject, so that shadow or overexposure doesn't occur. You can also use a natural light source from your windows and reflect them using a reflector/diffuser.
Best lights for content creation:
Neewer Bi-Color LED Video Light.
Aurora Gold Luxe Ring Light 3 Point LED
G1S Portable Vlog Light.
Aputure 300D.
Aputure Nova P300C.
Genaray Torpedo.
Sounds matter:
Not only should your content be explicit, but the audio must be even more precise, so finding the right sound gear and avoiding external noises is crucial in content creation. However, some content creators choose to edit sounds in the table, but editing sounds and removing noises in editing is a bad practice.
Get the right sound gear starting with a personal mic, Acoustic panels, and boom mic, and avoid recording audio on your mobile phones.
Best Sound Gear:
🎙️ Rode NT1 Best For Studio.🎙️ Rode VideoMic Pro+ Best For Camera
Ambiance and colors:
As said earlier, Content creation with video is also visual storytelling; the ambiance of the studio from which you are producing the content is essential to connect with the audience. Fill the room with artwork or neat paintwork that expresses the theme of your channel.
Look for colors that speak much about you and your channel rather than picking a random bright color.
Work on each item that is displayed on the video
Go for a green mat and edit it
Best budget-friendly cameras in 2023
Budget is a massive concern for creators at the initial stage of video content creation.
We have listed out a few camera gears. Please find the list of the best budget-friendly cameras content creators can use in their shooting process.
Sony ZV-1
Sony ZV-E10
Nikon Z30
Canon EOS M50 Mark II
Final touch:
Long-term loss of viewers is possible if you are a novice or a competent content provider with excellent videos but with a subpar setup. Take note of the essential camera equipment and configurations listed above, use them as needed, and start producing high-quality films.
Frequently Asked Questions
Which camera is best for content creators?
Most content creators use cameras like Sony ZV-E10, Panasonic Lumix GH6, Canon EOS R5, and GoPro Hero11 Black.
Is it worth buying a DSLR in 2023?
The charm of DSLRs has been fading for the last few years, and new content creators should go with more advanced cameras like mirrorless models. Mirrorless cameras comprise new technologies and can do things that are not possible with DSLRs.
Is Canon releasing a new camera in 2023?
Canon surprises its users with new technology every year. Canon R8, R50, and R100 are already launched in 2023;  a few more cameras might be released before the year ends.
What cameras to expect in 2024?
Sony might launch A9 |||. Canon EOS R8 and EOS R50 might also be launched in Feb 2024.
What is the future of mirrorless cameras?
Mirrorless cameras have been here for a while and are here to stay because of their technological advancements. All the professionals consider having one for better video quality.
What is the new compact camera in 2024?
PowerShot V100 compact APS-C camera with 4K 60p video launch will take place in 2024!